You can also reserve this discount & use it whenever you want !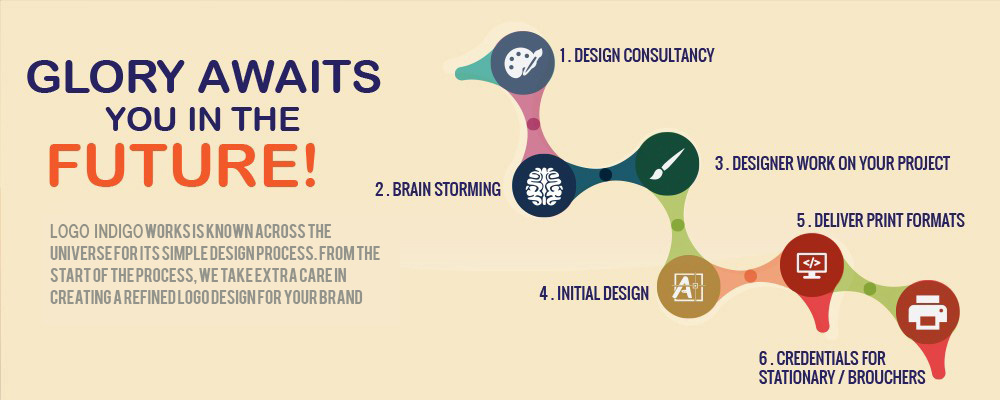 Logo Design Process
DESIGN CONSULTANCY
An experienced consultant is what you need to have a crisp result. Share about your expectations with us; what type of logo, website, stationery, brochure or social media design you want, why you want this particular design, what does your brand image constitutes; everything. Our consultant will guide you through out the simple yet efficient design process; selecting a package that suits your need is a piece of cake with our consultancy services.
BRAINSTORM WITH US
We don't work alone; our customers work side by side with us. Come and plan with us about your design. Tell us what type of design you want; should it be an image – based design or text – based. We work on combo designs as well and are efficient in creating one. Our highly skilled team of designers conducts brainstorming sessions and takes clients' advice as sacred. Furthermore, they sketch an initial design and then reach upon consent.
DESIGNERS WORK ON YOUR PROJECT
We believe that two heads are always better than one. We have a team of highly skilled and efficient designers who work with cohesiveness to deliver a fine product to our customers. Multiple in-house professional designers work on the ideas generated with mutual consent from the brainstorming sessions and reach a point of agreement which then leads to the start of designing a timeless creation.
INITIAL DESIGNS
Once the designers start working on your project, they'd be constantly in touch with you regarding the choice of colors and fonts and images and much more. They'd create a design for you that contain a number of different versions i.e. the same design in different colors and fonts. The blue – print designs are then delivered to you for feedback and further refinement is required from your end to create a final logo.
FEEDBACK / REFINE DESIGNS
Change is good; it's something that leads to a much more refined product. Once the designers sent their blue – print versions of the logo to the client, it is required from their end to evaluate them and let the designers know if any changes are meant to be made. The designers at Logoindigo are highly proficient in making those changes and delivering the final designs to you in a jiffy.
FINAL DESIGN DELIVERED
The last step is the cherry on top of the cake. The final designs can be delivered to you via multiple platforms i.e. through email, post, fax, or by downloading from our website. The designs are being provided in multiple formats and sizes so that it can be used in various marketing techniques. Three words can easily summarize the most important step of the entire procedure; finalized, delivered and downloaded!!!
Toll Free: +1 (320) 589-5070